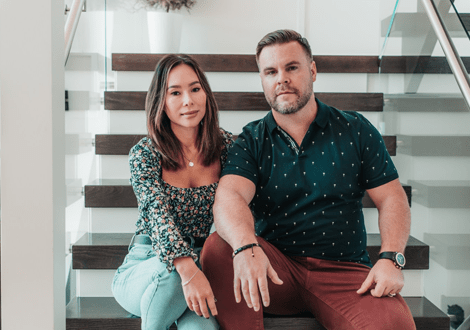 Bao-Tran Nguyen & Nathan Jeal!
Drs. Nguyen and Jeal are the co-founders of dental group 204SmileCo and Dental Authority Marketing and are even spouses. They are two of the most well known dental practitioners in Manitoba, and even go around the country to offer their business and dental advice at seminars. All of this success came in just a few short years thanks to their positive and hardworking mindsets.
The Problem?
Damon wanted to share his experience in the real estate industry and offer everything he's learned to others so that they can use it to develop further in their own ventures.The dentist duo wanted to create a place where they could share their knowledge with other dentists, as well as increase their online presence to grow their clientele.
The Solution.
In the summer of 2020, Bao-Tran Nguyen and Nate Jeal reached out to us to help them evolve their social media brands. Within a short amount of time, we achieved that for them. 
Their business account @SmileCo has grown to seven thousand, Dr. Nguyen's personal account @DrBaoTran to eleven thousand, and Dr. Jeal's personal account @DrNateJeal to over ten thousand.
Your Brand Is Next.
We're here to help and answer any question you might have. We look forward to hearing from you!